Novel Thoughts is all about getting Young Adult fiction to the masses. We ourselves our YA lovers and seek to draw in more readers by reading and reviewing books, talking with authors, featuring books and authors, and so much more! We're just here to hopefully find others that love YA and even bring some into reading it and loving it like we do.
Novel Thoughts: A Brief History.
Novel Thoughts was started back in March 2010 by Jeremy while in his 2nd semester of college. He grew bored with studying textbooks and started going to the local library to pick up some YA books that Jeffrey had suggested. This was his first time of actually reading, what we all now know as, "Young Adult" fiction (besides Twilight, which he read before all the hype). He loved the books he read and decided that he should review them online like his friend, Travis, had been doing since they were in high school together. He started Novel Thoughts over on Tumblr where he posted a few reviews before moving over to Blogger in May. Jeffrey had planned on starting a review blog around the same time, but they decided it would be easier just to combine their efforts and work harder to make Novel Thoughts the best it could be. It's been three years since then and it is still going and growing strong.

Jeremy West, Head Editor/Moderator and Adult Editor
Jeremy is the creator and moderator of Novel Thoughts. He is 22 years old living in a New York City with big dreams to be a graphic designer. He currently works as a bookseller as well as a freelance graphic designer for authors, publishers, and bloggers. You can check out some of his work on his website. After college, he plans to to work in publishing creating amazing book covers. Some of his favorite authors are: J.K. Rowling, John Green, David Levithan, Beth Revis, Cassandra Clare, Myra McEntire, Holly Black, Carrie Ryan, Kami Garcia, Margie Stohl, Lauren DeStefano, Victoria Schwab, and Rachel Hawkins (to name a few).
Jeffrey West, Entertainment Editor
Jeffrey is a self-proclaimed Doctor Who fanatic! He is currently a student and desires to work in the film industry one day. He loves reading, listening to music, and watching movies. Some of his favorite authors are: J.K. Rowling, John Green, David Levithan, Neil Gaiman, Cassie Clare, Kami Garcia, Margie Stohl, Carrie Ryan, and Holly Black. He can also be found on his YouTube page, GingerBookNerd, where he hosts This Week In YA as well as posts video reviews.

Jennifer Dee, YA/MG Editor
There was a glorious time in Jennifer's life when she was paid to read books. Sadly, she was eight then and no longer gets that deal from her mother. Now she gets paid to schlep books around first Borders, then Barnes and Noble and has been doing it for many years. She's been around the book blogisphere for over 6 years and finally committed to reviewing for Novel Thoughts in January 2012 in order to inflict her opinions on others. Originally hailing from Texas, she's recently moved to New York City to pursue publishing. She's also the Middle Grade Editor at Rifflebooks.com. Feel free to watch her babble about books and bagels on Twitter at @JustlyJennifer.
When she's not working with books (which is nearly never), she indulges in watching Sherlock while knitting, shopping at Target, drinking copious amounts of coffee, seeking out on the best Mexican food and loving anything and everything Percy Jackson.

Justina Ireland, Young Adult/Adult Reviewer
Justina Ireland lives in a house made of books. At least that's the excuse she gives when people trip over one. When she isn't accidentally killing house guests with her TBR pile she writes books. Her first book, Vengeance Bound, is available now from Simon and Schuster Books for Young Readers. When she isn't reading she enjoys eating, sleeping, and watching Judge Judy on her DVR. You can usually find her on Twitter @tehawesomersace.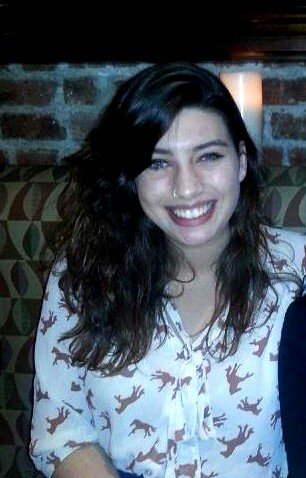 Sarah Weiss, Young Adult Reviewer
Sarah is a native Brooklynite who is now living in Milwaukee, WI. She loves reading, writing, and is an avid lover of coffee. She enjoys writing book reviews and blogging about her daily musings… while drinking coffee of course. When not doing one of these three things, which is rare, she is most likely singing and maybe even attempting to dance.
Charlee Vale, Adult/Young Adult Reviewer 
Charlee is a literary intern, bookseller, the Young Adult editor at Riffle, and team member at Red Creative Design. When she's not reading and reviewing, she can be found doing fun photoshoots, binging on netflix, and hanging out with NYC book friends. Also, she loves tea.