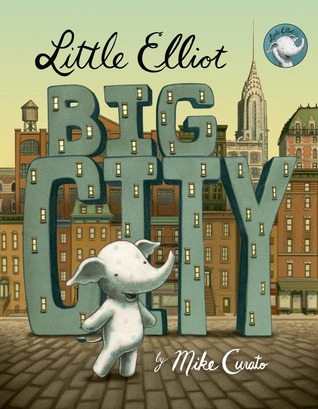 Little Elliot, Big City by Mike Curato
Henry Holt and Co. (BYR)
9/2/14 | $16.99
Amid the hustle and bustle of the big city, the big crowds and bigger buildings, Little Elliot leads a quiet life. In spite of the challenges he faces, Elliot finds many wonderful things to enjoy—like cupcakes! And when his problems seem insurmountable, Elliot discovers something even sweeter—a friend.
At some point, everyone feels a bit like little Elliot. Lost. Different. Helpless. But little Elliot loves living in such a big city even with all of its challenges because of the little things he finds. Even when others don't notice him, he is able to find a friend who does. This beautifully illustrated story may be little but it has a BIG heart!
The Storm Whale by Benji Davis
Henry Holt and Co. (BYR)
9/30/14 | $16.99
Every day, in a house by the sea, a little boy watches his father leave for a long day's work. The boy is lonely, until one night, a storm brings a very unexpected change.
This is a heartwarming story of the bond between the father and a son.
The first thing you'll notice about this book is the stunning artwork by Davies. While simple in form, the structure gives way to wonderful detail in every corner of this book. On top of that, the story is a lovely tale of growing up, friendships, and the ability to let things go. To be honest, I just really want to frame pages from this book to hang on my walls.
Little Humans by Brandon Stanton
Farrar Straus Giroux
10/7/14 | $17.99
Little humans are brave and bold, creative and curious, stylish and sweet. They love their brothers and sisters, their moms and dads, and their friends. Each little human is perfectly unique. Just like you!
Street photographer and storyteller extraordinaire Brandon Stanton is the creator of the wildly popular blog "Humans of New York." He is also the author of the #1 New York Times bestseller Humans of New York. To create Little Humans, he used some of his favorite children's photos from the blog, in addition to all-new exclusive portraits. The result is a hip, heartwarming ode to little humans everywhere.
After gaining widespread popularity for his blog and now book Humans of New York, photographer Brandon Stanton is back with a book for the little city dwellers. With beautiful photos of kids big and small, this story is one motivating children to do things bigger than themselves, to be strong, brave, smart, and playful. This is one book perfect for kids of all ages this holiday season.