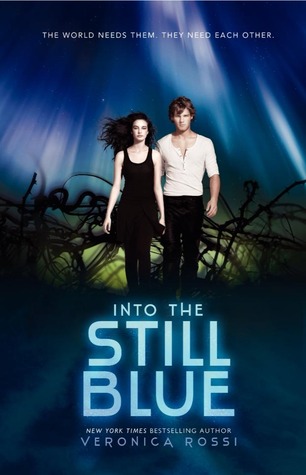 The race to the Still Blue has reached a stalemate. Aria and Perry are determined to find this last safe haven from the Aether storms before Sable and Hess do—and they are just as determined to stay together.
Within the confines of a cave they're using as a makeshift refuge, they struggle to reconcile their people, Dwellers and Outsiders, who are united only in their hatred of their desperate situation. Meanwhile, time is running out to rescue Cinder, who was abducted by Hess and Sable for his unique abilities. Then Roar arrives in a grief-stricken fury, endangering all with his need for revenge.
Out of options, Perry and Aria assemble an unlikely team for an impossible rescue mission. Cinder isn't just the key to unlocking the Still Blue and their only hope for survival--he's also their friend. And in a dying world, the bonds between people are what matter most.
In this final book in her earth-shattering Under the Never Sky trilogy, Veronica Rossi raises the stakes to their absolute limit and brings her epic love story to an unforgettable close.
I tend to be wary going into the final book of a series. There's a moment when I'm absolutely terrified, wondering if my heart will be broken, or I'll regret knowing what happened, or even that I might be over the moon with happiness. So I was relieved when I absolutely loved the ending of the
Under the Never Sky
trilogy.
In this book we see Aria and Perry's relationship blossom through impossible situations and choices. We see true growth by them as a couple which leads to an incredibly satisfying end or both their combined and personal character arcs. In addition, they are not the only characters which receive more than satisfactory endings, almost everyone grows or changes in a visible way.
But perhaps most impressively is the way in which Rossi handles the book 3 conundrum--how to you reach and surpass a goal that has been looked forward to for two entire books? As is the case with many recent trilogies, there is a journey to either a specific place, or a specific goal. A thing that will bring immense change to all the characters and most likely change their entire metaphorical--or in this case, literal--world.
When this goal is reached, it is neither overblown into a utopia or so underwhelming that it is disappointing. Rather, Aria and Perry's new world has all the problems of their old one, because the same humans still inhabit it, and with them come the same set of relationships and prejudices. Yet, there is the knowledge that in this new world there can be change and overcoming, and that makes all the difference.
I thought that this trilogy ended beautifully, and I encourage everyone to read and enjoy this beautifully rendered fantasy.