Rules of Summer by Shaun Tan
Arthur A. Levine Books/Scholastic Inc.
4/29/14 | $18.99
It's all about the rules. But what if the rules feel completely arbitrary? What if your older brother is the only one who gets to make them up all summer long? And what if he's the only one who can save you when the darkness of winter comes rushing in?
As usual, master artist and storyteller Shaun Tan shows us the strange truth of ordinary things -- rules, relationships, despair, and hope -- as only he can.
Shaun Tan masterfully creates a beautifully dark fantasy world about two boys and their summer adventures following the lessons they learn and mistakes they made. A perfect representation of childlike imagination through gorgeous illustrations.
Rule #1: Read this book now.
Rule #2: Read every other book by Shaun Tan.
Seriously, you won't regret it.
Big Bad Bubble by Adam Rubin
Illustrated by Daniel Salmieri
Clarion Books
5/6/14 | $16.99
An ordinary bubble may seem pretty harmless to you. To the monsters of La La Land, however, a fragile, shimmering bubble is an object of terror, and when the frightening habits of bubbles are detailed by a fear-mongering monster, Yerbert, Froofle, and Wumpus run away and cry. But with encouragement from the narrator and from readers—"Go on, Wumpus, you can do it. (Tell Wumpus he can do it.)"—the three learn to confront their fears and triumph over the bubbles! An original, offbeat, and giggle-inducing take on conquering fears from the
New York Times
best-selling team responsible for the groundbreaking
Those Darn Squirrels!
books.
In La La Land, the only thing to fear are bubbles themselves. But after reading this book, all I want to do now is move there for cheap rent and doughnut trees. This book is so full of silliness and hilarity that you can't help but laugh at these feared monsters for such a wild fear of soap bubbles. The perfect book to help a young reader get over a fear of theirs or even just to bring a smile to their face.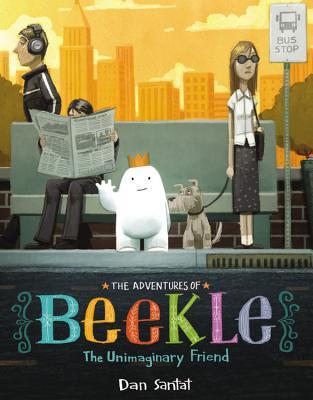 The Adventures of Beekle by Dan Santat
Little Brown BFYR
4/8/14 | $17.00
This magical story begins on an island far away where an imaginary friend is born. He patiently waits his turn to be chosen by a real child, but when he is overlooked time and again, he sets off on an incredible journey to the bustling city, where he finally meets his perfect match and-at long last-is given his special name: Beekle.
New York Times
bestselling and award-winning author and illustrator Dan Santat combines classic storytelling with breathtaking art, creating an unforgettable tale about friendship, imagination, and the courage to find one's place in the world.
Sadly, I don't ever remember having an invisible friend as a child. I always had brothers around to keep me company. Beekle will connect with readers of all ages for its message of invisibility and the desire to be seen. This is the ultimate book about friendship and imagination.
Done in his signature style, Dan Santat now makes me wish I had an imaginary friend that was just like Beekle.