The Selection changed the lives of thirty-five girls forever. And now, the time has come for one winner to be chosen.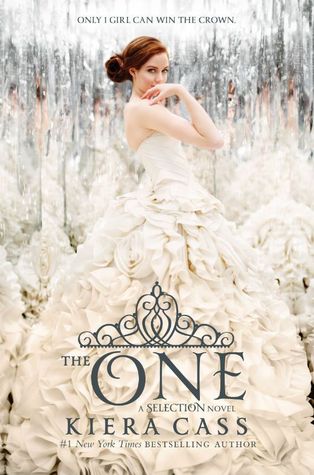 America never dreamed she would find herself anywhere close to the crown—or to Prince Maxon's heart. But as the competition approaches its end and the threats outside the palace walls grow more vicious, America realizes just how much she stands to lose—and how hard she'll have to fight for the future she wants.
From the very first page of
The Selection
, this #1 New York Times bestselling series has captured readers' hearts and swept them away on a captivating journey... Now, in The One, Kiera Cass delivers a satisfying and unforgettable conclusion that will keep readers sighing over this electrifying fairy-tale long after the final page is turned.
To those who know me, it's no secret that I've been waiting for the publication of
The One
for a long time.
The Selection
books have been among my favorite books by virtue of their pure escapism, and
The One
is no exception.
I've always felt that these books have a knack for feeling truly lighthearted even among the heavier moments in the books--this is something that a lot of Young Adult books--especially in the fantasy or dystopian genre--don't have. I'm definitely going to miss that about these books, but I'm so happy I finally got to read the finale!
If there was a time lapse video of me reading this book, I'm convinced it would be hilarious. There was much flailing, cursing, smiling, and having to walk away from the book because I was afraid to read what would happen next.
The One
is filled with suspense, romance, and a fair share of that
Mean Girls
drama we've come to know and love. With only four girls left in the Selection, and he rebel attacks getting more severe, the stakes in
The One
are much higher than before.
One of the things I love best about this book, are the things we actually don't see. Decisions we don't know the consequences of until the very end. There's a great moment where everything clicks together, and you say to yourself 'Oh! Okay. I get it now.' It safe to say for me that I think
The One
is the best in the trilogy, and I can't wait to read whatever Kiera has up her sleeve next!