Every summer, Rose goes with her mom and dad to a lake house in Awago Beach. It's their getaway, their refuge. Rosie's friend Windy is always there, too, like the little sister she never had. But this summer is different. Rose's mom and dad won't stop fighting, and when Rose and Windy seek a distraction from the drama, they find themselves with a whole new set of problems. It's a summer of secrets and sorrow and growing up, and it's a good thing Rose and Windy have each other.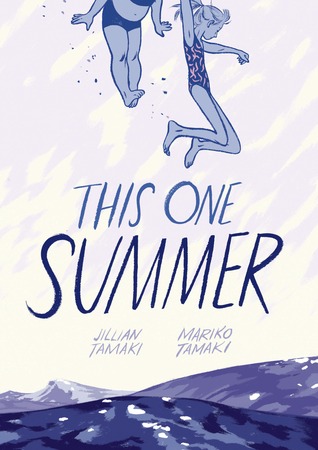 Today, I have the awesome pleasure of having Mariko Tamaki, one part of the duo behind
This One Summer
. She's here to talk about teens today and some advice she has for them. And it's good stuff, guys. Check out her post below and learn more about
This One Summer
, one of the prettiest graphic novels I've ever read.
In This One Summer two stellar creators redefine the teen graphic novel. Cousins Mariko and Jillian Tamaki, the team behind Skim, have collaborated on this gorgeous, heartbreaking, and ultimately hopeful story about a girl on the cusp of her teen age—a story of renewal and revelation.
What you want to say to teenagers today?
One of the most common questions I get asked as a YA writer is what, if any, message I have for teens today.
Which is a funny question, to me, because when I was an actual teenager, I had nothing to say to teenagers.
I was virtually silent for most of my 8th and 9th year in high school.
I spent most of my teen years watching TV and writing in journals.
Writing POETRY in journals.
The first thing I wrote that I ever read aloud, which was probably close to the first time I ever spoke in class, was a paper about the
Lord of the Flies
. I was a little obsessed with
Lord of the Flies
, because it seemed to me to be totally true. Like, yes, I thought, if I was stranded on an island with a crew of my peers, they would probably, eventually, hunt me for sport. Not right away, no, obviously. But eventually, when everyone realized there were no adults around, they would steal my glasses and beat me up. Yes, girls too. Because there is viciousness to girls, even nice, private school, girls, which is stunning but not unexpected if you hang out with them enough. That's what the essay was about. My teacher made me read it out loud.
As you can imagine, the results were mixed. Some people thought I was crazy, some people liked it because, I think, they thought it was true too.
Today, as a writer, I try, as much as possible, to hit a kind of honestly in what I write about, to make every scene feel like what would happen. For me, the central part of what makes YA for Young Adults is that it's about young adults. It's not about sending them a message; it's about trying to capture some piece of that experience.
There are a lot of amazing YA writers out there doing that exact thing. One of the first YA books I read that struck me as doing just that was Frank Portman's
King Dork
. Another is Sherman Alexie's
The Absolutely True Diary of a Part Time Indian
. I love how these books capture what feel like such familiar frustrations in settings that are just as mind numbing and stunning as I remember landscapes being from when I was a kid.
Creating these stories is distinct, to me, from having anything to say, directly, to teenagers. Most of what I have to say to them is pretty simple, and boils down to something like, "relax, it's just high school."
Because it is.
About the Author:
Mariko Tamaki is a Toronto writer, playwright, activist and performer. She works and performs with fat activists Pretty Porky and Pissed Off and the theatre troupe TOA, whose recent play, A vs. B, was staged at the 2004 Rhubarb Festival at Buddies in Bad Times Theatre. Her well-received novel, Cover Me (McGilligan Books) was followed by a short fiction collection, True Lies: The Book of Bad Advice (Women's Press). Mariko's third book, FAKE ID, is due out in spring 2005.
Mariko Tamaki has performed her work across Canada and through the States, recently appearing at the Calgary Folkfest 2004, Vancouver Writer's Festival 2003, Spatial III, and the Perpetual Motion/Girls Bite Back Tour, which circled though Ottawa, Montreal, Brooklyn and Chicago. She has appeared widely on radio and television including First Person Singular on CBC radio and Imprint on TVO. Mariko Tamaki is currently attending York University working a Masters degree in Women's Studies.
Check her out online at
www.marikotamaki.blogspot.com
!