Before SANTA was SANTA, he was North, Nicholas St. North—a daredevil swordsman whose prowess with double scimitars was legendary. Like any swashbuckling young warrior, North seeks treasure and adventure, leading him to the fiercely guarded village of Santoff Claussen, said to be home to the greatest treasure in all the East, and to an even greater wizard, Ombric Shalazar. But when North arrives, legends of riches have given way to terrors of epic proportions! North must decide whether to seek his fortune…or save the village.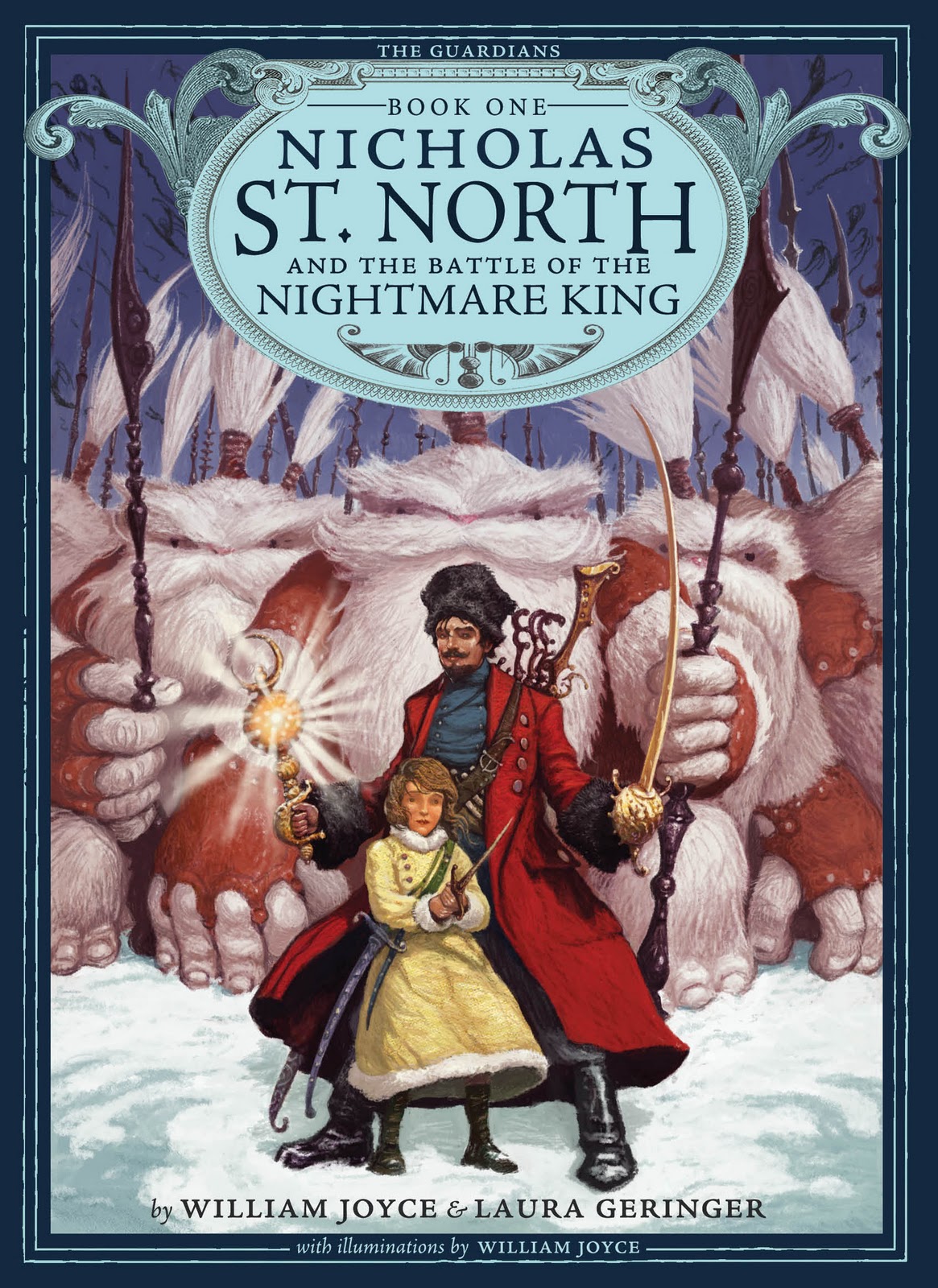 When our rebellious hero gets sucked into the chaos (literally), the fight becomes very personal. The Nightmare King and his evil Fearlings are ruling the night, owning the shadows, and sending waves of fear through all of Santoff Clausen. For North, this is a battle worth fighting...and, he's not alone. There are five other Guardians out there. He only has to find them in time.
It's been a long, winding journey to how I FINALLY started reading the
Guardians
series. First, a trusted Percy Jackson friend said I had to see this
Rise of the Guardians
movie because Jack Frost is the bomb diggity and snark-tastic. I did. I fell in love. With the adorable story, the completely gorgeous CGI, the painfully gorgeous and tragic Jack Frost and Chris Pine's voice. As anything you become a fan of goes, you seek out the roots. There are picture books (two of them as of now) and middle grade books (up to 4 out). This is for the middle grade series.
You know how every once in a while you get a book where you ignore your phone, The Twitter, Facebook and the texts. You ignore the page numbers or the time because there is BOOK? That was this. From page one to the end I was completely entranced in this adorable sweet little world of the beginnings of the guardians of childhood and their leader, the Man in the Moon. This story is about North (to be Santa one day). If you've seen
The Rise of the Guardians
, then you know that North is one bad ass Santa. Rocking the tats and wields sabers, he's far from the Coca Cola cherub Santa that we all know. And this North is true to that and even better. A thief turned hero. With a wizard mentor. And a heroic young girl that he wants to earn her respect. This all equals Jennifer puddle of happy.
What really drowned me in this book's awesomeness was the purely magical element of it. This might be something that only exists in my head, but I feel like there are two kinds of magic in books: dark, serious magic and pure, wondrous magic. The wondrous magic is more of the fairytale variety and I feel like I so rarely read it. Reading this was watching a Christmas movie as a child and just believing in the magic. And no, I don't make the comparison just because it's the story of North aka Santa. Really, the book has nothing to do with Christmas. There are just the themes of childhood and wonder. Perfection. Under the same header of magic, I have to note the world-building. It was fairly straightforward as is expected in a middle grade novel, (Tolkien-level is not expected) but it was just so intriguing. Yet another reason, this was a no-distraction book for me.
Last, but not least, the art, guys. Ugh, I LUST for it. It's so rich and gorgeous and I just eat it up. If you think you might be interested in this series, check out the
Man in the Moon
picture book at your local bookstore and drink in the gorgeous art and the little prequel to the chapter book series. I think you might be convinced just on that.
The day I after I finished this I went into my bookstore job and immediately ordered the next two books. Expect reviews soon. I cannot wait to get back into this world the gorgeous art and characters.
Similar recommendations:
The Spiderwick Chronicles
by Holly Black and Tony DiTerlizzi and
Liesl and Po
by Lauren Oliver.
-
Reviewed by Jennifer