Today, we have the awesome privilege of having author Emma Michaels here on Novel Thoughts! Her debut novel, The Thirteenth Chime, hits stores today and what is more fitting than on Friday the 13th?! It's perfect! I don't want to keep you guys waiting so here it is! Let me know what you think.
About The Thirteenth Chime:
Destiny has finally found the life that she has always wanted.
She is about to finish college, has a fiancé that loves her, and a great summer on the West Coast
planned with her friend, Stephanie.
But her world is turned upside down when an antique clock mysteriously chimes thirteen
times and someone attacks them, sending Stephanie and her mother to the hospital.
Alone, and without any help from the police, Destiny has no choice but to turn to the one man
she had left behind a year ago - her ex-boyfriend, David.
Together, they must solve the riddle of the thirteenth chime before the clock strikes thirteen
again.
Yet as they face their own past and hearts, a trap over half a century old is waiting for them to
become its prey.
For revenge, fifty years is never too long…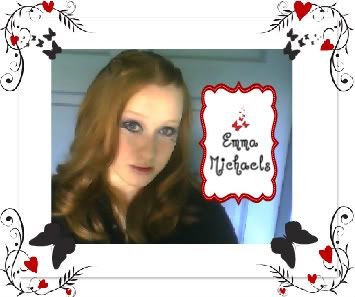 About the author:
Emma Michaels has shared her love of books through blogging since 2009 and in 2010 made the change from being the one writing about other authors, to being one of them. With her debut novel, The Thirteenth Chime, she hopes to be able to reach out to other bloggers who strive to become published authors and to let them know that it is possible. She had the goal of one day making it to the top 100 New York Times Bestsellers List and firmly believes that anything is possible if we all work together to make it happen. Living with her small Chihuahua and her fiancé on an island off the coast of Washington State, she hopes to be able to help others through her writing, the way that reading helped her.
Being Positive
One of the best things that have happened to me since learning that my first book would be
published is having met so many wonderful aspiring writers online. When I first began querying
agents, I hit a number of stumbling blocks and seeing how much books have meant to so many
other really helped me to pull through. What astonishes me is how many really wonderful
aspiring authors have been running into the same situation. We do the research and pour out our
hearts into the queries that we then send out into the world. Many of the ideas that I have been
fortunate enough to learn of from other authors actually have a lot of potential, but they are rarely
given the chance they deserve. Why? Business. For agents, they are in business because they
want to do business - they want to make money. Aspiring writers, just like I was, also hope to
make money BUT we are in this because we love what we are doing. It is a part of who we are
that we just can't ignore and want to be able to share with the world.
So who is right or wrong? Personally, I don't think that either group is wrong. Agents have to
make informed decisions that continue to bring them business. We, as writers, have to keep going
because this is what we love doing and we want to continue doing it. Unfortunately, both sides
lose out and our only recourse is to keep going, even when we are tempted to quit.
So what makes this worthwhile to writers? How do we encourage ourselves while still reaching
out to the audience we hope to one day be blessed enough to share our works with for years to
come? Each other. We need to be strong for one another and offer encouragement, even when we
feel so discouraged we are tempted to quit. For those of us who are bloggers, we are blessed
enough to be able to connect with our readers and each other. We share back and forth with one
another and we receive comments both good and bad.
Yet for me, as I am sure it is the same for many others out there, what makes it all worthwhile is
how we have each other and our audience. This year I was blessed in receiving my chance and I
hope I will be able to write for my audience for many years to come. Others have reached their
chance before me and many others will receive theirs after me. But we're all in this together
because this is what we love and we have been blessed with the chance to share what we love
with others. In doing so, maybe we can make a difference, not just for our audience but also for
each other.
Keep being positive and believing in what you love, even if you feel discouraged at times! No
matter who your intended audience is, we're in this together and I believe in what we are trying to
accomplish. My thanks to everyone who has supported me and remember, I believe in you too!
Together, we can do anything! While flying seemed impossible so long ago and buildings that
reached for the sky, hundreds of stories tall, now these are the things we see every day. No matter
what you goals are, as long as you can dream it, you can make it a reality!!!
Thank you so much for everyone supporting me and believing in me! Thank you for reading and
I truly hope you will enjoy "The Thirteenth Chime"!!!!