Michelle Zink
Author of the Gothic fantasy series, Prophecy of the Sisters, published by Little Brown Books for Young Readers.

Prophecy of the Sisters was released in August of 2009. Book two in the series, Guardian of the Gate, will be released on August 1st, 2010.
She lives in New York with her four children while writing her latest series.
Her books:
Sixteen-year-old Lia Milthorpe and her twin sister Alice have just become orphans, and, as Lia discovers, they have also become enemies. The twins are part of an ancient prophecy that has turned generations of sisters against each other. To escape from a dark fate and to remain in the arms of her beloved boyfriend James, Lia must end the prophecy before her sister does. Only then will she understand the mysterious circumstances of her parents' deaths, the true meaning of the strange mark branded on her wrist, and the lengths to which her sister will go to defeat her. Debut novelist Michelle Zink takes readers on an unforgettable journey where one sister's fateful decision could have an impact of Biblical proportions.
The ultimate battle between sisters is nearing, and its outcome could have catastrophic consequences. As sixteen year-old Lia Milthorpe searches for a way to end the prophecy, her twin sister Alice hones the skills she'll need to defeat Lia. Alice will stop at nothing to reclaim her sister's role in the prophecy, and that's not the only thing she wants: There's also Lia's boyfriend James.

Lia and Alice always knew the Prophecy would turn those closest to them against them. But they didn't know what betrayal could lead them to do. In the end, only one sister will be left standing.
Q: Can you tell us about Prophecy of the Sisters and Guardian of the Gate?
A: The Prophecy of the Sisters trilogy is an old-fashioned, epic adventure in the tradition of Lord of the Rings, The Chronicles of Narnia, or The Mists of Avalon. It spans more than one country, more than one world, and more than on reality and is, at its heart, the story of one teenage girl fighting to be the person she believes she is rather than the person the prophecy expects her to be or dictates she is. It's a study on the theme of pre-destination versus free will; how much of who we are and what we do is fate and how much of it is choice? Things that apply to every human being in any time period and any place!
Q: Where did you get the idea for the series?
A: The idea for Prophecy of the Sisters started with the legend of the Watchers, a legion of angels who were sent to watch over mankind but were banished for falling in love with mortal women. I thought it would be interesting to fast forward that legend a couple of thousand years and ask what would have happened to the descendants of those original women if there had been a price to pay for their relationship with the Watchers, who later came to be known as the Lost Souls.
Q: What are your thoughts on the covers?
A: I ADORE the new covers. I liked my old cover as well, but I think the new covers are much more sensual and alluring. Plus, they're so vibrant! They really jump off the shelves!
Q: What made you want to become a writer?
A: The same feeling I get when reading a great book - the ability to be carried someplace totally new and different, totally immersed in that world - is the same feeling I get when writing. Writing is a way to have that feeling whenever I want and need it.
Q: What do you enjoy doing besides writing?
A: Spending time with my children is the most fun I ever have. In fact, as a single mother, I often tell people that I won't date until I find someone whose company I enjoy as much as that of my children. LOL! But we are big film and music fans. We spend most of our time together watching movies, going to concerts, and just talking (sometimes late into the night) about everything under the sun.
Q:

Who are your favorite authors and what is something that you have learned through them and their books?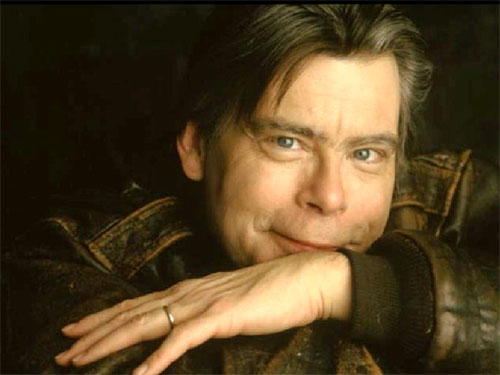 A: My favorites are Janet Fitch, Carlos Ruiz Zafon, Sarah Waters, and Stephen King, who was my inspiration to write all through my teenager years. I hate to say I've "learned" anything from these incredibly talented writers, because I feel like I'm STILL learning every time I read their work. That said, I'd have to say from Fitch I learned the power of beautiful prose, Zafon the impact of the Gothic genre in its truest form, Waters the intricacies of a well-crafted twist, and King the horror of the almost-possible.
Q: And finally, what can you tell us about what you are currently working on?
A: My next series is a very, very dark contemporary fantasy also based on ancient lore. I think of it as The Dark Knight meets Twilight - minus the vampires! I'm super excited about it and have been working on it on and off since 2007. I also have another Gothic/Steampunk series, set in London this time, that I'm playing with... Stay tuned!
I want to say a big thanks to Michelle for doing this interview with me even though she was on vacation! Her second novel, Guardian of the Gate will be released on August 1st. Now to the giveaway!
Here's the giveaway! I will be giving away one
signed copy of Prophecy of the Sisters (paperback) along with Prophecy/Guardian swag (bookmarks, picture frame, buttons, etc.)
and I will also throw in some extra goodies! To enter, just fill out the form below and that's it! If you have read Prophecy already, don't forget to check out Guardian of the Gate when it releases next week! Contest ends 8/6 and is INTERNATIONAL!