Starting this week, I will be posting a new feature each Friday whether it is an interview or a guest post. It will always be someone different whether authors, bloggers, or publishers that will be interviewed or providing a guest post. This week I am proud to present to you a new author, Emma Michaels. She is a former book blogger who is now living her dream as a published author. Her debut novel, The Thirteenth Chime, hits the shelves on Friday, August the 13th. You can read my original post introducing her
here
. So without further ado, I give you my first interview: Emma Michaels.
The Thirteenth Chime by Emma Michaels: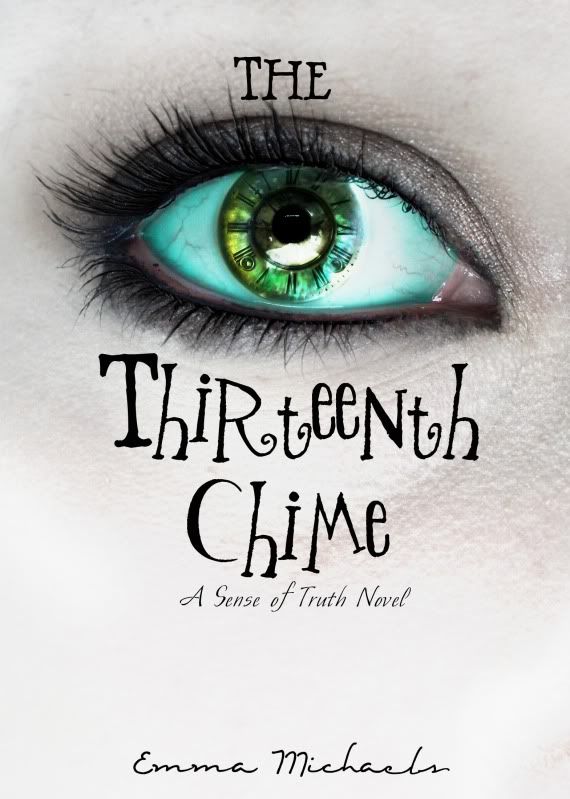 No one knew of its existence until it was removed from the attic upstairs.
In a beautiful house that overlooks the sea, an antique clock has the power to change the course of their lives.
The power the clock resonates will not only force Destiny and ex-boyfriend David on a journey into the depths of one man's mind long dead, but into the mind of a man filled with hatred and bent on revenge.
With the only clues to the nature of the clock having disappeared into the sea, Destiny and David must retrace the steps the man had taken into the darkness, before they fall prey to the trap he had set in motion over half a century ago.
The Interview:
Q: In coming from a blogging background and now being a published author, when did you know that you wanted to be a writer and how is blogging different from writing a novel?
A: I actually knew I wanted to be a writer before I started blogging. I wanted to start blogging to not only get my opinion and reactions to Young Adult novels out there but to see what everyone else had to say so that I could try to write novels that my target audience would be more likely to enjoy.
Q: I believe that many of the book bloggers out there are aspiring authors who desire to be published one day just like you. But what really inspires you to write and what books specifically have inspired you?
A: The main thing that inspires me is emotion. I have a tendency to pay very close attention to emotions and whenever I am writing a novel it normally begins with an emotion. Then I start to search for what causes those emotions for me and to go from there. There are many authors who have inspired me throughout my life, but the author who started me reading Young Adult was Tamora Pierce, and that truly changed my life.
Q: Through reading and talking with other authors, I seem to gain new perspective through listening and learning from them. Who are your favorite authors and what is something that you have learned through reading their works?
A: Favorite authors… Okay, for me this is a hard question to answer because I have so many authors that I love. I would say that it depends on what I have read recently, but the main authors I will always stay faithful to are Tamora Pierce and Sharron Shinn. Or at least that is who comes to mind currently.
Q: Now transitioning into your writing, what exactly does a "normal" day of writing look like for you?
A: It depends on where I am in a series. The first novel is the hardest to start; I worry about the beginning, I am still mapping out my outline and words flow out from me like a hurricane, but I am never completely sure they are the right words. It is once I start settling into a story that it is easier and that is when you see me typing away and I have to be reminded even authors need food to survive. Most of the time I just get up in the morning and take care of anything (non-writing related) that has to be done, then once I am attached to my computer good luck getting me away from it. It really is what I love to do.
About The Thirteenth Chime:
Q: Reading the synopsis for the book, I notice that is really unlike any book I've read (and I love it). Where did you come up with the idea for The Thirteenth Chime?
A: Every novel starts with an emotion but then you find what causes that emotions and with
The Thirteenth Chime
it felt like I had been sitting there with a box of puzzle pieces that suddenly came together to show me a bigger picture. My neighbor's grandfather clock, a man I had once spoken to and other small things that all suddenly added up to one larger story. It was an amazing feeling for it to finally all come together into a story which then turned into a novel and brought me here.
Q: The first thing anyone notices before picking up a book is the cover. What are your thoughts on the cover and do you feel that the cover really conveys the tone or attitude of the book?
Q: Many authors often insert a part of themselves when developing their main character. What do see in the main character that you have in common?
A: There are two main characters and for each I really believe the one part of me I see in them is that they never give up, no matter what is thrown at them, no matter how impossible something might seem they just keep moving forward.
Q: And finally, tell us about your next book.
A: I am actually not allowed to talk about it yet until we see how well the first novel is received but let's just say everything get even bigger and better as the series progresses!
Closing Remarks:
Q: As a former blogger, is there anything that you would say to other bloggers who desire to have a published work one day?
A: Just keep going. It was really a difficult road for me. I couldn't afford conventions to meet agents and I don't live in an area where there are any, so all I could really do was e-mail submissions. I had such a hard time getting anyone to even get past the query letter. Finally, after one hundred and four rejections (Yes, I am serious – I
know they say online to stop after forty or so but I am not the kind of person who can give up like that after coming so far.) I decided to take things into my own hands and try for some of the publishers who would accept unsolicited queries. Bokheim Publishing accepted me right away and here I am now hardly even a few weeks later! So as I said, just keep going. You will hear rejections no matter how amazing your book is but as long as you keep moving forward and never stop writing, you can make it. Even if you never get published, I know there is a lot I learned along the way! I am wishing the best of luck to all of you out there who have dreams of being published!
"Thank you so much for having me here Jeremy and thank you everyone for reading. I hope you will enjoy
The Thirteenth Chime
!"
What an amazing interview! When I first heard Emma's story I really thought of how many people I know that truly dream of seeing one of their writings published one day. Hearing her story is a real encouragement to myself and I hope that her story inspires you to "keep moving forward." I really hope that this interview has helped you believe even stronger in yourself as well as motivate you to press on and never give up! Thanks for reading the interview and a big thanks to Emma for taking the time with me and answer my questions.
If you learned something from Emma or just enjoyed reading this interview, please leave a comment and let me know! I would love to pass on your comments to Emma as this would be a big encouragement to her. I also want to thank Sarah, Zoe, and Sara for your help with my first interview!